Spring 2022 Events
UC Moves for UCLA Staff & Faculty:

Thank you for participating in UC Moves 2022, a physical activity challenge from May 6 - May 27!
You represented team UCLA in the friendly competition against other UC employees by logging your physical activity each day throughout the challenge.  Your goal was to move 5,000k steps/day during this interactive challenge through Walker Tracker along the California coastline map*!
Miles for Memorial Day 2022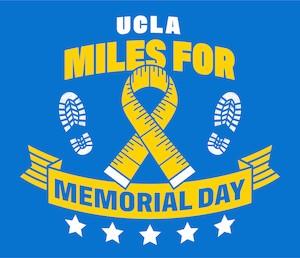 Thank you for participating in Miles for Memorial Day 2022!
To honor the veterans who sacrificed their lives serving our country, the UCLA Military-Connected departments and UCLA Recreation teamed up to bring you the Miles for Memorial Day Challenge. You moved one mile every day for the month of May! 
Registration Instructions
1. Visit the UCLA Recreation Program Registration web page.
2. You will then be prompted to " Log In " if you have an account or " Sign Up " to create an account.
3. Click on "Memberships & Fitness Passes"
4. Select which pass you would like to register for and follow instructions to complete the transaction.
5. IMPORTANT: Throughout the quarter, for IN-PERSON classes, please save your spot for any classes you plan to attend. Class reservations for each class open 7 days in advance. *By signing up for each class each week, you will be able to be notified of any schedule changes or cancelations. Go to "Group X Pass (Reservations)" at https://secure.recreation.ucla.edu to find all Group X Pass classes listed.
6. "Walk-Ups" are allowed. While we encourage reservations, it is not required and we encourage you to attend even if you did not make a reservation. Spots will likely still be available even when the class shows that it is full because there are often "no shows."
7. Please cancel any reservation for any class you are no longer planning to attend. This helps to make sure spots are available for those wanting a spot. Do this by going into your Recreation Online Store profile under your purchases and selecting the three dots next to each class you reserve.